Ulkira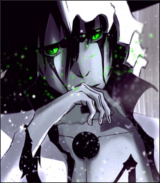 Subject: Mission: Unfinished Business Sun 16 Mar 2014, 8:02 am

---

A continuation of this mission.

Mission Title: Unfinished Business
Mission Type: Custom [Solo]
Mission Location: Mizu no Kuni
Shinobi Requirement: B-Rank Nukenin
Mission Rank: C
Mission Objective: During his previous mission, when he was sent to spy on a drug operation run by his employer's rivals, Masquerade encountered and confronted two Nukenin working for said rival. Of these Nukenin, the B-Ranked male was killed, whereas the C-Ranked female was intentionally left alive. Now, the kunoichi has approached the people who had employed Masquerade for that mission, and demanded that they have him face her in a grudge match. If they do not, she has threatened to share sensitive information with her superiors about the espionage mission; this could yield catastrophic results, since revealing to one drug lord that their competitor has been spying on them is a prelude to bloodshed. As such, it is highly preferred that she keep her silence, through whatever method is most plausible. Thus, Masquerade has been ordered to confront the kunoichi, and take care of her.
Min Post Count: 4

And I promise not to overdo it this time. D:
Nomi

Subject: Re: Mission: Unfinished Business Sun 16 Mar 2014, 8:21 am

---

Only if you promise...

Approved.