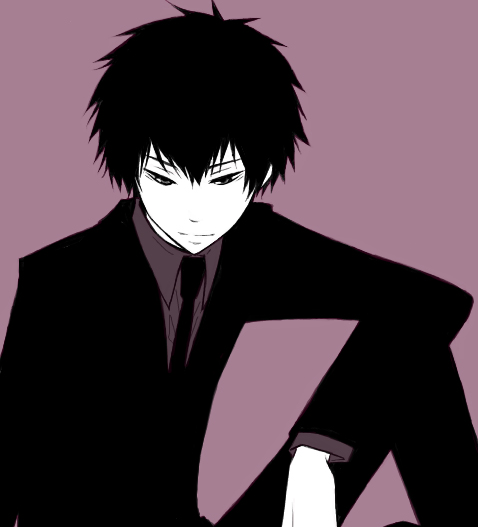 Name:
Kyasuta Hyuuga
Nickname:
Dark Prince
Age:
17
Gender:
Male
Appearance:
Kyasuta has short black hair, with a fringe that joins at the center of his face, and parts to the sides, leaving a sort of, "M," shape. He doesn't follow the traditional long hair of the Hyuuga clan, he sees it as a cultural thing and Kyasuta doesn't always follow tradition. His pale skin is milky yet this is normal for a member of the Hyuuga clan.He has sharp pure white eyes, which he uses to intimidate those around him. Kyasuta's eyes seem almost alluring at the same time as menacing, it makes most people rather uncomfortable when staying into the white eyes the Hyuuga have in there genetic code. Kyasuta stands at 6'0" and weights in at 185 lbs. His skin seems fragile, yet incredibly and naturally soft to the touch. Under his clothing, Kyasuta seems skinny and appears to be light on his feet, this gives him a small advantage of being faster then most ninja. His arms oddly are like skin and bone, to the point were if you look hard enough his arms unnaturally show almost all of his veins. This is a rather creepy feature of him and thus he is rejected by most of the opposite sex.
Kyasuta dresses himself usually in the traditional black kimono made of fine silk that he bought earlier in his life when he became a genin. Kyasuta's kimonos sleeves reach down to the half way point of his pale forearm. His kimono is well pressed at most times, as he wishes to dress himself in fine clothing and make himself seem of a high class. However unlike other Hyuuga, Kyasuta doesn't have any symbol or marking of his clan because he rather finds that having the Hyuuga's doijutsu of the Byakugan is even to say that he is of the clan. Underneath his black kimono, Kyasuta will usually wear a plain white v-neck that he finds comfortable for his liking of loose clothing. Kyasuta also wears regular black ninja sandals that have provide extra support and comfort for him. Along with that he also wears fine black silk pants that cover his lower half of his body.
Forehead Protector:
He wears his headband around his pants as a belt, though not visible due to it being under his kimono
Personality:
Kyasuta is very mellow and doesn't care about anything or anyone. He has no real emotion, he never smiles, Kyasuta never gets lazy and he never gets angry. All he may every feel like is boredom, he tries to find something to do, yet Kyasuta will still find it just plain boring. He is always calm even in the face of death itself. Kyasuta never has to deal with unnecessary drama, because he always know to just avoid it. Kyasuta is the kind a guy who doesn't have social skills seeing as how he hides his self from the public world allot.
Kyasuta is not exactly shy, he is more of a observer. He's a guy who devote all his time to his work. He also never entirely trusts anyone. He really has no friends nor aquatints of any kind. Even among his fellow clansmen, Kyasuta is still a mere observer of the clans meetings, and other types of gatherings. He thinks of himself as a high ranking citizen as well as a dangerous ninja, when anyone would doubt his confidence, Kyasuta will merely not care and believe that you are just not worth his time. He finds his time precious and works to make things fast, this including himself and his overall movement speed. He claims to be very important in his clan yet he rarely will ever cares about it. Kyasuta doesn't take prisoners and will show no mercy to those willing to sacrifice themselves for a greater good. Despite having his dead parents wish to lead the clan, Kyasuta wishes to just avoid the whole clan politics area as a whole and live on with the rest of his life.
Clan:
Hyuuga
Nindō:
Work for what you need, and take what you want.

Origin:
Mizu no Kuni
Affiliation:
Kirigakure
Rank:
Genin
Specialties:
Taijutsu | Fuuinjutsu
Elemental Affinities:
Raiton | Fuuton
Combat Style:
Gentle Fist Syle | Hit and Run
Kyasuta likes to use his Gentle Fist Style as his main offence. However Kyasuta will use his speed to advantage, by striking and backing away. He chooses when to attack his opponent at the right time. Kyasuta considers himself to be a opportunist in combat. With his many years of training he knows what to expect, thus Kyasuta prefers to try not get hit and actually do the hitting which is probably to most other ninja. And for the most part if it means Kyasuta gets in close range of you, you better watch out. People will simply fall in Kyasuta's path as he continues to use the hit and run tactics. Against long ranged opponents, Kyasuta does numerous things, making him hard to predict. Those that hurtle many weapons find themselves chasing a moving target that matches their effort. Those that enjoy using powerful, long ranged jutsu sparingly will be fought at close range no matter the cost to the Hyuuga. His moto is to be able to get close to someone, and implament his gentle fist techniques. Once he is within the right range, he focuses on strike after strike, after strike, until the attacks come at blinding speed and accuracy; both of which are points of focus from within the Hyuuga clan.
Spoiler:
Special Characteristics:
Speed SC:
Clan SC:
Evasion SC:

History:
Through time and time again the world seems to not be just black and white. No,no,no. It seems defined as a world made of grey. There are not just the bad and the good, but those who get lost along the way thinking of doing good. When all it is, it is just turning to evil. Kyasuta was born with the intention of his parents in order to lead the Hyuuga clan. However his father wasn't there when he was born. His father was a explorer and a mercenary, so before Kyasuta's mother could get the chance to tell him that she was with child, he was already gone. It was already to late for Kyasuta to have a normal life. Kyasuta's was left in the care of his single mom, who had to raise him up till he was at the age of 9. However a few months later she was admitted to the hospital for cancer. Once Kyasuta had grown to the age of 9, it was a cold and rainy day when his mother died in the hospital. This left Kyasuta without his last hope of having a normal life, and he took this frustration onto his father that he never got to meet. Kyasuta grew sour and alone up until now.
When it came for Kyasuta to become a ninja of the mist, he was already bitter and anti-social. He never wanted to talk in the academy and yet that didn't stop him for graduating top of his class. The graduation he never attended for he honestly never cared about. Infact during all his time in the academy, he never cared about anything. Kyasuta just went on his own away into forest of Kirigakure with a cigarette in his mouth while everyone else attended graduation. He wished to be alone while spending his time else where. He began to train his mind and his thoughts instead of attend a stupid graduation with all of the students that were turning into genin. As he grew older, he also grew wiser, he began to invest into things that would reward him later on immensely. Kyasuta had grown a good mind for money, thinking of trade and the overall economy of Kirigakure. He worked himself as a business man and as a ninja, not having to worry about things like family. It seemed like child's play when Kyasuta later gained a fortune, because his invests did in fact reward him. And yet the money didn't satisfy his lust for power and a normal life. He wished to find his long lost father and pay him back for the trouble he had caused Kyasuta. He would then proceed to train his body into a killing machine, he wished to murder his father.
Later down the path of his life, Kyasuta used his money to hire his own band of mercenaries to track down his father. It was a full 2 years of waiting that until Kyasuta was 15 years of age when group of hired mercenaries had finally tracked down and captured Kyasuta's father. As the mercenaries brought his father up to him, Kyasuta was disgusted to see his father was old and a heavy drinker based that his father wasn't even sober. It only made Kyasuta spit more venom in his face as Kyasuta expressed all of his rage and emotions that he had held back. And before the sun set on that fateful day, Kyasuta beat his father to death and made himself hallow inside. He was never the same after that day, as he left himself empty inside.
Roleplay Sample:
As rain fell down in Kirigakure, smoke puffed out from Kyasuta's mouth. His nice outfit was soaking in the rain, but Kyasuta couldn't care less. He was bored and needed to find something to do. Kyasuta sighed releasing another puff of smoke from his lit cigarette. "This is so ****ing boring." He said. He smoked out the rest of his cigarette, then flicked to ground while it was still burning. He assumed that the rain would take care of it. He sighed once again and walked back to his apartment "What a drag." He said as his wet black hair fell over one of his eyes.
He walked slowly through the streets in his normal black kimono, that was now soaked and being weighted heavier then earlier. He noticed the extra weight and proceeded to sigh heavily, almost as heavy as the kimono was now feeling. He stopped in the middle of the abandoned street, noticing that everyone was most likely inside, all nice and dry. Kyasuta shifted his loose kimono and stripped it off, showing his white v-neck t-shirt. The air was cold, yet bearable for Kyasuta, after being born and raised in Kirigakure, he was used to this kind of weather. As he folded up his soaked black kimono he carried it in his arms. "So damn boring." He muttered under his breath as he continued on his way back to his apartment.
He approached the door along the white painted with the number that read 420. That was his door number, as he held his dripping wet black kimono with one pale arm, he dug into his right pocket in search of his keys to his apartment. After grasping it, he inserted the small silver key into the door. As he turned the key a loud click emitted from the door knob and Kyasute walked into his home. As Kyasuta entered the main room, it was rather large, a open floor plan. The main room had all he needed, a leather black couch and widescreen TV in the living room. His kitchen standard, and all hard wood floors. He stripped off his cloths and dumped his wet clothing into the nearby hamper. Kyasuta brushed his wet hair out of his face and proceeded into his bedroom in search of some fresh cloths. As he entered his bedroom, he turned on his heel towards his dresser, Kyasuta sighed and rummaged through and plucked out a fresh change of cloths. Despite that, Kyasuta was now to lazy to go find something to do. He flopped onto his soft bed and shifted into the sheets. Shutting his eyes he mumbled out "****ing waste of time." he then slowly feel into a peaceful sleep after wasting part of his day.

Academy Jutsu:
Hyuuga Clan Jutsu:
Taijutsu:
Fuuinjutsu:
Ninja Kit:

Character Claim:
Hibari Kyoya
Source:
Katekyo Hitman REBORN! Manga/TV Series
Image URL:
Link